Scholar Bursary Recipients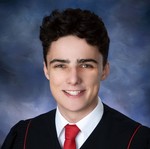 Shaughnessy Riordon
Shaughnessy Riordon is a 2019 Bathurst High School graduate. He was valedictorian of his graduating class (99.13% average) and won the Governor General Medal. He was student council President this year and was Vice-President last year. He has played on numerous varsity sports teams; Hockey, Soccer, Volleyball, Basketball and Track & Field. He was very instrumental in bringing back the Buddy Club at Bathurst High School and truly champions the underdog. In his spare time Shaughnessy enjoys reading, travelling, playing the piano and saxophone. He also works on his family's dairy farm. In the fall, Shaughnessy will be attending University of New Brunswick in Fredericton and plans on majoring in Bio-Chemistry.

Émilie Risdon
Lauren Tullock
Lauren Tullock graduated from Bathurst High School in 2018. Lauren was the valedictorian of her class. She was very active in her high school, assuming various leadership roles. Lauren is very involved in the drama and theater community, and wrote an original play that was performed at BHS. .
Lauren is presently studying to obtain a Bachelor of Journalism at the University of King's College.
Kelly Gauvin
Kelly Gauvin is the first recipient of the Dr. J. Harper Kent Scholar Bursary. Kelly is an outstanding example of a student who has made a meaningful contribution to her community and reflects the value of the Dr. J. Harper Kent Scholar. Kelly graduated from École Secondaire Népisiguit in 2017 . Having attended Université de Moncton's Shippagan campus for her first two years, Kelly has been accepted in med school beginning in the fall of 2019.
Kelly is active in school and its extracurricular activities. She was Intern Vice President of the Student Association, and when not in school, she organizes summer camps for young adults on the autism spectrum.